TAKE ACTION
Menu
Organize a Screening
Hundreds of organizations are using the series in community dialogs, policy forums, trainings and other events to spark new conversations about what we as a society, can—and should—do to make a strong start the birthright of every infant in the U.S.
How will you leverage the series in your work?
Align your own organization
Use the series to improve staff and leadership knowledge, skills and commitment to addressing the social determinants of child well-being. You might use a child equity lens to consider the impact of your own programs, policies and partnerships on staff and the community. Or ask how your organization can take a leadership role in drawing attention to the inequities that harm our youngest children—and to initiatives which can put children on a stronger developmental path.
Facilitate In-Service Training for Providers (including Grand Rounds)
Screening the films and using their accompanying discussion guides can provide modules for in-service trainings of all kinds.
Brown Bag Lunches
Many workplaces hold lunchtime events and provide release time for voluntary activities. Suggest a series of brown-bag lunch events devoted to screening and discussing episodes of The Raising of America and how early life conditions affect your co-workers - either as parents, someday parents, or as the children we all were and how that shaped us into the adults we are.
Engage members and constituents
Many members and constituents are not well-connected to their organization, nor involved in its mission. Screenings can bring members together, help them scrutinize their own preconceptions, strengthen their commitment, and become adept themselves at informing and involving others.
At Conferences
Professional and academic conferences are an excellent place to screen and discuss the implications of The Raising of America.
Plan workshops
How can you help your members and constituents use the film as a tool in their work? Rather than including the film as an 'evening event' with little time for dialogue, plan a longer workshop that provides strategies for using the series as one tool to advance your work.
Foster community dialogues
Public screenings at churches, schools, libraries, theaters, high school auditoriums and elsewhere provide opportunities to engage broad and diverse publics and to inspire them to support specific initiatives which affect families and their young children, as well as demand greater accountability from government and business leaders. Consider reaching out to the media, especially your public radio or television station, to cover your event or even produce a show of their own rooted in your community.
Strengthen alliances with natural partners
Screenings can bring together many organizations who work with children but rarely communicate with each other—pediatricians, counselors, child care providers, scholars, nurses, PTAs and school volunteers, foster care providers, child and working family advocates, educators, public health workers, social workers—and strengthen partnerships, or begin new ones.
Once allies are brought together eager for change, they can convene policy forums and screen an episode of the film, or even a few clips, as part of a healthy discussion with civic leaders and policy makers about initiatives that can make a difference in your community, your county, your state—making clear the benefits to all.
Build new allies across sectors
Many organizations don't appreciate that their work is ipso facto child development work. But to the extent those working for living wage jobs, racial justice, affordable housing, transit and infrastructure improvements, zoning, food access, environmental justice, more green space, workforce development, philanthropy, even criminal justice, military readiness and campaign spending reform succeed in their efforts, then the conditions for families, caregivers and children are likely to improve. Using the lens of early childhood can help stitch this work together and build a stronger, broader base of support. Don't forget to reach out to your public television and radio station community affairs directors.
Generate student involvement
The series can be used in a wide range of courses—sociology, social work, child and human development, the family, labor studies, public health, education, psychology, medical schools (especially pediatrics) and nursing. Films can be screened in class or assigned outside class as 'readings.' They can also be used in residence life programs. The Discussion Guides and Discover section of the website provide additional resources.
Empower the media
Invite selected members of the media to attend your events. Help them appreciate how any discussion of children and parenting is incomplete unless it also includes how social conditions, history, racism, corporate policies and government action can help or hinder child development. Invite your local PBS radio or TV station to produce a 'wrap-around' show focusing on local issues to accompany the broadcast of The Raising of America.
The Raising of America seeks to encourage a national conversation that makes direct connections between early child relationships and environments, their impact on the biology of young children, and how these in turn influence adult outcomes as well as the future of the nation.
The series was created in the context of a national public engagement campaign, with partners across the nation at the national, state and local level committed to using the series as a tool to generate dialogue about what we can—and should—do to make a strong start the birthright of every infant in the United States.
655

partners

and counting…

 

The Raising of America Kansas City Coalition is using the series to educate and organize for policies that support children & families. First win? Six weeks paid leave at 100% pay for KCMO municipal employees. Second? A When Work Works Initiative to make KC businesses the most family-friendly in the nation.

The Early Childhood Colorado Partnership is planning more than 45 screening events, developing a toolkit of resources, hosting planning webinars, and awarding 15 mini-grants to support organizations around the state.

The National Association of County and City Health Officials (NACCHO has formed a strategic partnership with the CDC, AMCHP and Healthy Heartlands to support local health departments through wide dissemination of DVDs of the video series.

The Arthur M. Blank Family Foundation in Atlanta, GA hosted a screening for 350 civic leaders where they challenged participants to organize 100 community screenings across Georgia to change the conversation about early childhood.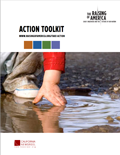 Eight Ways to Use the Series to Advance Your Work
Six Elements of a New Conversation
Planning a Successful Screening
You can save items in Your Favorites (like a bookmark) wherever you see
Add to Your Favorites